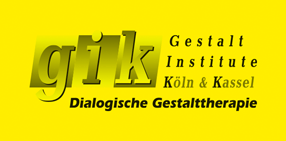 Gestalt Therapy Institutes of Cologne and Kassel, Germany
Gestalt Institut Köln - GIK Bildungswerkstatt


Informations about our Workshops and Trainings in Gestalt Therapy in German language:
Aktuell: Unsere Veranstaltungen in den nächsten Wochen
"Die Seele nähren" - Gruppen und Workshops für Menschen, die sich persönlich weiterentwickeln wollen
Gestalt-Aus- und -Weiterbildung nach dem Kölner Modell

-

Our New Book:

Erhard Doubrawa
Touching the Soul in Gestalt Therapy
Stories and More

In this book the author has collected stories, which he has often told in his therapeutic work – during individual therapy sessions with clients as well as in group trainings. These stories have already often contributed to helping people open themselves again and be deeply touched by others. [Information]


GIK Gestalttherapie Institut Köln
GIK Gestalttherapie Institut Kassel
Einrichtungen der beruflichen Weiterbildung:
Unsere Veranstaltungen finden in Köln und Kassel statt.
Die Teilnehmer*innenbetreuung erfolgt durch unser GIK Büro Kassel.
GIK Büro Kassel
Hunrodstr. 11
34131 Kassel (Bad Wilhelmshöhe)